Thanks for printing! Don't forget to come back to Inspect-All Services for fresh articles!
Rodent & Wildlife Exclusion
Allow our wildlife specialists to safely remove unwanted pests and seal up your home with our award-winning exclusion service.
Rodent & Wildlife Exclusion
Squirrels
Hearing noises in your attic? Allow our specialists to handle your squirrel problems!
Rats & Mice
Rodents are no match for our team. We offer a full-service rat pest control exclusion program that is 100% guaranteed!
Home Services
Crawlspace Solutions, Wildlife Disinfectant, Insulation Services, Gutter Protection Systems & much more!
Home Services
Stinging Pests
Wasps, bees, hornets, yellow jackets. Don't get stung, call the professionals!
Infrared Wildlife Detection
Our wildlife specialists use the latest technology in infrared scans to give a more complete analysis of your home. Learn more
Bats
Bats in your attic? We can safely remove them and seal up all entry points!
Other Wildlife, including Snakes
Looking for more? We offer solutions to a multitude of wildlife related issues, including snake control and removal. Please contact us and we'd be glad to help!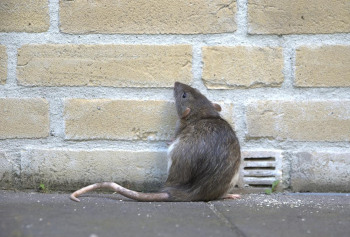 We can help!
Rats and mice are some of the most troublesome and damaging rodents in the United States. They eat and contaminate food, damage structures and property, and transmit parasites and diseases to animals and humans. Rodents live and thrive under a wide variety of climates and conditions and some can enter your home through a void the size of a dime.

After a thorough inspection to determine which species we're dealing with, we'll create an effective program to keep your home rodent-free through our comprehensive rat pest control.

Our Atlanta, GA rodent control program has four important steps:

1. A thorough inspection to identify the species, where they're nesting, and what factors are attracting them.

2. Creating effective sanitation so that rodents are denied both food and hiding places.

3. Eliminating all potential entry points.

4. Reducing the population by applying poison, bait, and traps.